You know when you wake up and think "OMG! What have I done?" today was one of those moments… Last night after a few glasses of prosecco (yes I know it was a school night, it was our anniversary) I decided it would be a great idea to sign myself and my other half up to do the Robin Hood Half Marathon!!!!!  I don't feel quite so confident and invincible today hahaha!
Regardless; it is one of the things on my list of things to do in 2017 so it looks like it is going to happen! I'm not really a runner, I hated cross country at school. I've done a few 5K runs over the last few years but right at this moment in time I probably could just about run a couple of kilometres and then collapse of exhaustion so I really really need to start training! I am absolutely terrified about doing this at the moment!! It isn't until the 24th September so I do have some time to prepare myself… Thank goodness! James is a pretty good runner and will go out at least 3-4 a week but this will be his first ever half marathon too!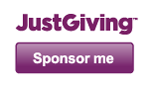 We would really love your support so please consider sponsoring us, between us we are hoping to raise a minimum of £500 for Macmillan Cancer Support because no one who has to deal with cancer should go through it alone.
If you sponsor me and you are a business or a blogger then please let me know so I can add your link to my sidebar to say thank you for your support ?
Now to start the training… do you have any advice/tips for us? I need all the help that I can get 😉