You might remember back in January when I had a few too many glasses of Prosecco and signed myself and my other half up to do a half marathon, I couldn't even run a kilometre back then and quickly regretted the decision! Not one to back out of a drunken mistake I actually decided that hell yes I can do that and started on a training programme to get me across the finish line! 13.1 miles is a BLOODY LONG WAY and the time is almost here for me to actually do it! Our summer has revolved around training, training and more training and to date I have clocked up over 650KM. I'm tired, really tired but I know I can do this!
My life is complete different to what it was two years ago. Two years ago I embarked on a weight loss journey and managed to lose over 4 stone, so training for a half marathon this year has really helped with keeping me fit and keeping the weight off. I really love getting out and running and actually really enjoy the longer runs. My longest distance so far is 17km so I need to run another 4km on top of that on the big day!
My big day is this coming Sunday (24th September) and I am pretty terrified right now!
If you would like to sponsor me for my half marathon you can do so here…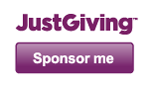 I would really love your support so please consider sponsoring me it really does help spur me on knowing that I am running for such a good cause! I am raising money for Macmillan Cancer Support because no one who has to deal with cancer should go through it alone.
A HUGE thank you to everyone who has supported me so far by either sharing my posts or sponsoring me. I'll be back next week to update you all with how I did xxx
Featured Photo by Martins Zemlickis on Unsplash
SaveSave
SaveSave
SaveSave