Wow! It's been a while since I actually sat and wrote a blog post, I have been putting it off for so long – I just don't seem to have the time anymore. Life is so busy but we are all really well and happy. I'm going to try and get better and actually update much more often than I have done recently.
This is my first post of the year so it's only right that I spend it looking back at what we got up to in 2019. 2019 was a great year for us, we had lots of adventures and spent lots of time together. We all started new things which have enriched our lives… I can only hope that 2020 has more of the same in store for us 🙂
January
In January we celebrated out 15th anniversary and headed to the Peak District together for a day of hiking. I took part in Red January and ran every day. I actually really loved it but haven't been out for a run for months now as James got a turbo trainer last year so I just get up most mornings and go on that.
We also visited the National Trust's Biddulph Grange Garden and Sudbury Hall. All in all it was a great, very active start to the year.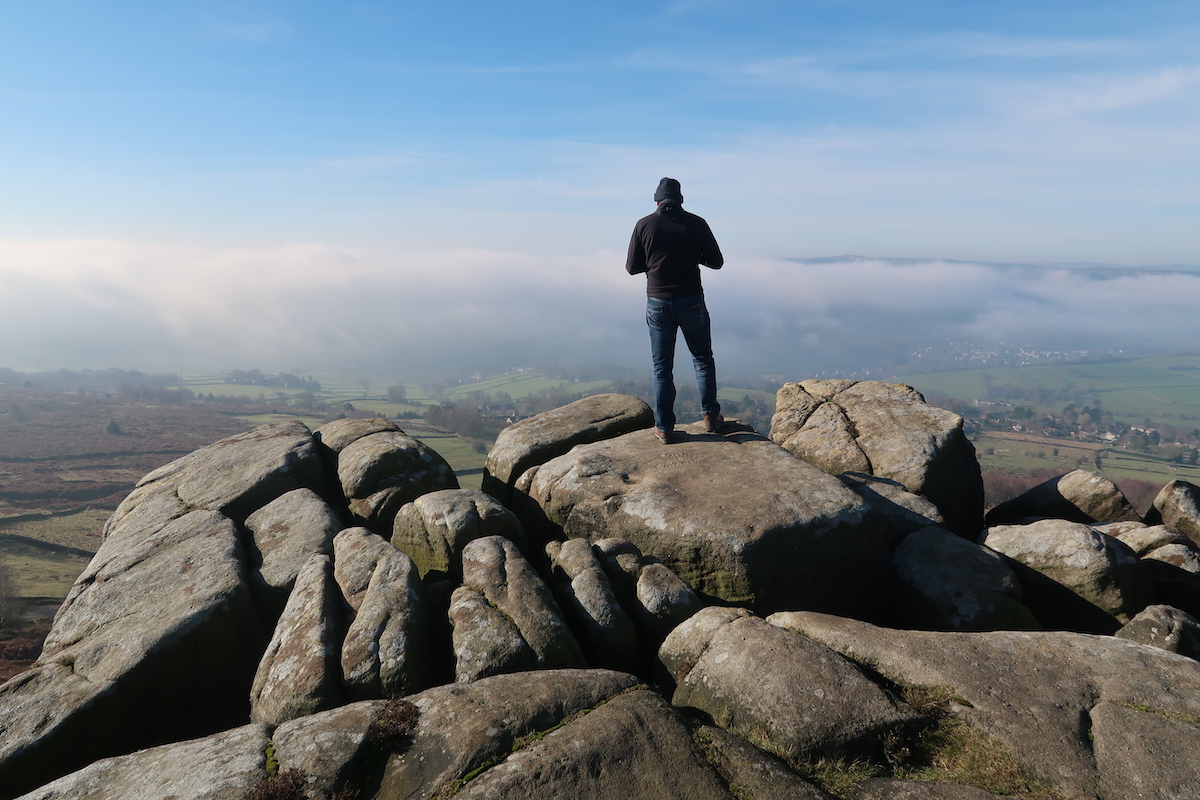 February
February saw us taking yet another trip to the Peak District, this time to Curbar Edge. That was such a glorious day and it's making me itch to get out hiking again just thinking about it. We were really worried as we drove there as it was quite a cloudy, miserable day but it turned into a beautiful day and we enjoyed some stunning views.
I also enjoyed lunch with Liam at The Botanist in Sheffield and a beautiful afternoon tea with some girlfriends. We also had our first date night of the year and went to one of our favourite restaurants.
March
We headed to London for a weekend in March, it was the first time since the kids were very little that we ventured down to London. We did the London Eye and saw Disney On Ice at the 02 back then but this time we were able to explore a lot more.
We watched Matilda the Musical at The Cambridge Theatre (which was awesome), went to the National History Museum, the Science Museum, the Tate Modern and walked and walked around the sites until our legs could go no more.
Hopefully we will be back to explore more this year. March was also the month for dressing up as Bugs had World Book day where he dressed as Thing 2, crazy hair day for comic relief and Viking day.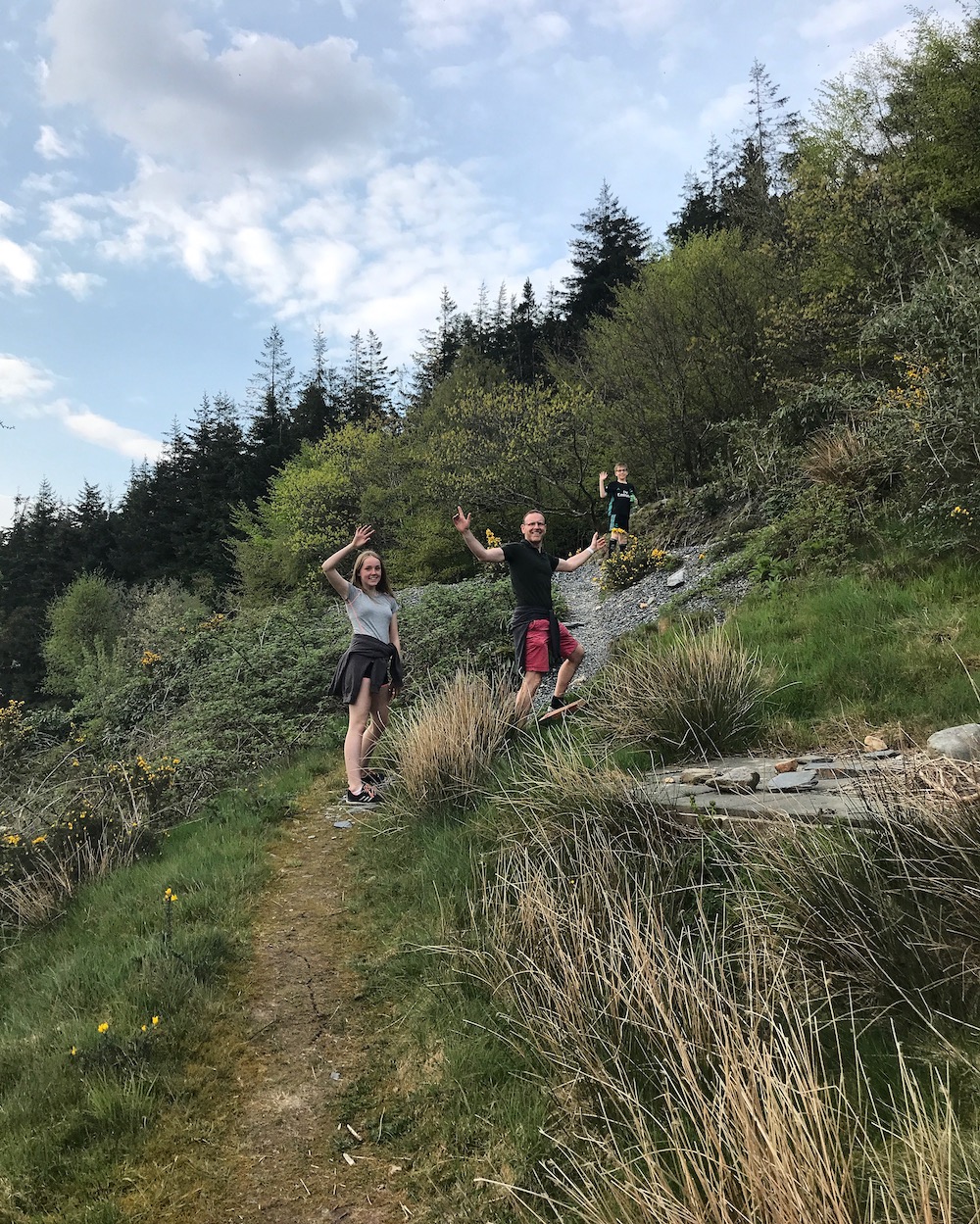 April
In April we headed to North Wales for a few days, we went Glamping at Slate Mountain for two nights and then stayed at a gorgeous AirBnB by the sea for three nights. We had a fabulous time!
The Slate Mountain Adventure Tour was just brilliant – we also did Bounce Below which is scary as hell but once you got used to it, it was a lot of fun! We visited Portmeirion while we were there too which was such a beautiful place.
May
In May James did the Etape Du Dales raising over £1,000 for The Alzheimer's Society. He did amazingly well and thoroughly deserved a beer at the end of it 🙂
I factored my elbow in May so that was fun, thankfully it healed fully and quickly but it certainly stopped me in my tracks for a week or two and I wasn't able to do a great deal at all.
We ended the month hiking with the kids at The Roaches… all those rocks aren't that easy to climb with one arm though 😉
June
Liam spent the weekend with us in June and we headed to the Gin Festival together. We aways have such a great time together and it's great having a son that is old enough to go to the bar for me 😉
Bugs had an inset day and we headed to the cinema to watch Toy Story 4 and then had a Five Guys! We LOVE an inset day 😉
We also visited Calke Abbey, which is one of our favourite National Trust properties.
July
Bugs took part in his first musical soiree evening playing two pieces on the piano. He was so nervous but he played so well, it was really one of those proud mummy moments that brings tears to your eyes but fills your heart with such joy!
Speaking of proud mummy moments; Boo took part in District athletics at the end of July. She only went and beat their 300m record. You can see the video of her sprint here on my Facebook page. She was truly awesome!
I became a Home-Start volunteer and was placed with my first family. I've been with them for over six months now and I absolutely love it! If you are considering volunteering then please make sure you have a look at Home-Start.
August
The baby of the family turned 9 at the beginning of August and we spent the day at the Snowdome in Tamworth with his best friend. It was such a brilliant day, we went swimming, then tobogganing and then ice skating. I'm hoping he wants to go back this year too 😉
We spent two weeks in Cornwall in August too. One week in Falmouth with Liam and the second week in Bude. They were both amazing weeks, we did so much exploring while we were there and spent so much time bodyboarding in the sea too. We do really love Cornwall and would really love to live there one day.
September
It was my birthday in September and my friend took me for the most delicious afternoon tea. I had such a lovely day and got pretty spoilt 🙂
The kids went back to school, Bugs into year 5 and Boo into year 8. They both seemed pretty happy to be going back to see their friends. I also started back at school, finally I am taking my Maths GCSE as I never got it at school. I am really enjoying doing it and can't wait for my exams in May and June.
We also had a great day out at Calke Explore, it was pretty wet but we made the most of it and are so pleased with the great new addition to our favourite National Trust 🙂
October
October is always such a busy month with birthdays as James, Boo and Liam all have their birthday. Boo being 13 didn't really want to do anything with family this year so she had a sleepover with her friends…. she did allow us to give her presents though so we did actually get to see her 😉
We took Liam out for lunch for his birthday and for James' birthday him and I went for a meal so it was a month full of meals out and birthday fun.
November
Liam graduated in November, he also won an award! We are so very proud of him as his life hasn't been that easy but he did it bless him! We had a lovely day celebrating as we had an awards lunch, then the graduation ceremony then we went out for a meal together.
We went our for a meal with the whole family as well in November as mum and dad celebrated their 55th wedding anniversary. It was wonderful to see everyone and spend time with people who we don't see very often.
December
It took me a good while to get in the mood for Christmas, I really wasn't feeling it but as soon as I got myself organised I started to relax and enjoy it. We had a really quiet Christmas at home, just the four of us as Liam was working this year so he didn't get to join us. Regardless we did have a lovely time and managed to catch up with Liam for a meal in-between Christmas and the New Year.
After Christmas we headed to the Motorpoint Arena in Nottingham to watch Grandpa's Great Escape which was great. We got to enjoy it from one of their executive suites which was amazing.
We saw the new year in at home with the kids and a glass of Prosecco. It was the first year that they stayed up with us and we had a fun evening of family games and films.
Happy New Year everyone! I hope 2020 is an amazing year for you all xxx